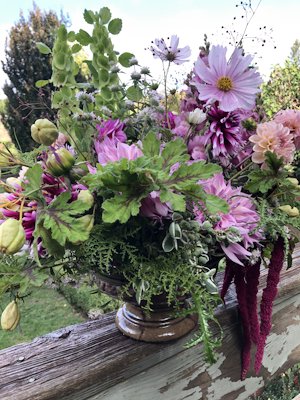 Exciting news, I have a new website designed thanks to a great neighbour Larry. He first did a website for me in 1995 and 12 years ago it was redesigned. So you can imagine how exciting this is to finally have a new simple clean website that is also current. I hope to capture the growing season here in the gardens this coming season on this blog . Please wish me luck !
Our 2021 growing season will be filled with new varieties of flowers. I've been pouring through websites and seed catalogues for new varieties and adding new dahlias to the mix. Spent a couple of days alphabetizing my existing seeds. And am trying to plan out the gardens for spring planting .
Hopefully, we will be allowed to have small gatherings even though, at the time of writing this, Ontario is in another COVID lockdown. This past year was a slowing down of life as we know it. My husband Ken retired in June and tackled lots of projects that were on the to-do list. We spent lots of time in the garden with our three grandchildren Preston age 2, Lavender 5 and Teagan 9. They are absolutely wonderful at doing floral arrangements. I am dreaming they will be my floral designers in the future! Teagan and Lavender are learning so fast about designing and gardening ! Preston needs a little help ❤️ but is always right in there doing his best. They certainly know the names of the flowers and what colours they like best to harvest for their arrangements. It was all a part of our Gardening 101 summer course.

We have planted a new lavender field with over 200 lavender plants. This new planting is from cuttings of the lavender that was been grown here at The Herbal Touch for 30 years . The darkest of blossoms and the longest stems were selected and replace the lavender garden that was needing rejuvenation. I'm excited about all the new fragrant prospects and the hours it's going to take to harvest ! Not sure who will help harvest but I know the bees will be with me !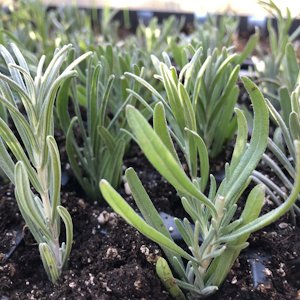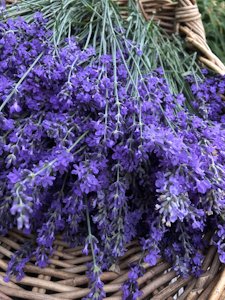 In 2020 all but one wedding was cancelled and I felt very sad for all of the brides but hopefully 2021 will allow us small weddings. If you would like to talk about wedding flowers text or email and we'll get together safely.
The Herbal Touch was established in 1983 and over all of those years there were lots of special events. Bus tours, TV shows, speaking engagements, the annual Flower Faery Festival, Chef David Downing in the garden at the Spring Open House and at the Salsa & Pesto Festival, herbal tea parties and lots and lots of private group tours. All of this has changed. We closed the retail shop and the gardens to the public several years ago. Last summer a lot of new customers asked if we would have a day to tour the garden and we are hoping to arrange this for a day in August. We will keep you posted.
I hope to put lots of new energy into the garden and The Herbal Touch this year . The porch bouquets went over really well and we will continue to do the bouquets starting with peonies in the spring .
We grow lots of dahlias, zinnias and other seasonal garden flowers and as I mentioned will be adding to the list .
I've left the most exciting news for 2021 for the last ! In February we will also be adding a new baby to the Driedger family. Can't wait !
Happy New Year and All the Best to you and your families in 2021 .May we all stay safe .
Thanks again to everyone who supported us last year and I look forward to "Flowers in the Spring".
Marilyn